Welcome!
Thank you for visiting R Promotions. We appreciate your time and interest. Please browse our search engine for exciting and new promotional products.

Let our staff be an extension of your marketing team. We can provide you with fresh ideas, competitive pricing, and excellent service. Please contact us at admin@rpromotionsusa.com for any further assistance you might need.



**********If you need it, we will find it. And if it doesn't exist, we will create it for you.**********
Featured Item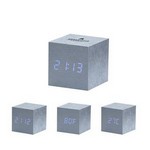 MoMA Alume Cube Clock
Designed by Natalie Sun, the Alume Cube Clock has a textured surface. Snap your fingers or tap the cube and the green LED display reveals the time, date and temperature and after a few seconds the dis...

Signature Showrooms